Online Reputation Management (ORM) is the process of controlling the online reputation of your business.  It involves continually analysing the internet to see where and when your website or brand is mentioned, so that you can respond immediately. How your business is perceived online, on websites and on social media, is incredibly important to the success of your business.  Without ORM, you risk your brand reputation being tarnished or even destroyed by negative social media posts, blogs or comments that have gone viral.  To see these posts before they are shared and go viral, you need to use ORM.  This helps you to protect your brand reputation in the long-term.  The infographic below will tell you all about the ORM benefits.
ORM Benefits:
The benefits of Online Reputation Management include:
Develop Trust.
Show you care and always respond to comments, whether they are good or negative.  By interacting with your customers you start to build a relationship with them and earn their trust.  Your customers will come to learn the values and ethics of your company through your comments.  While your customers will feel like their opinion does matter to you.
If you don't respond to negative comments (even if you haven't seen the negative comments), your customers might think you are ignoring their complaints, causing them to think you don't care.  This will then anger the person who posted and anyone else who has seen the post. Which will in turn, spark more comments, shares and likes, bringing more negative attention to your business.
Of course, you do need to be diplomatic and considerate in your responses.  Getting into an arguement, being condescending or speaking rudely, will only make the situation worse, as Nestle found out: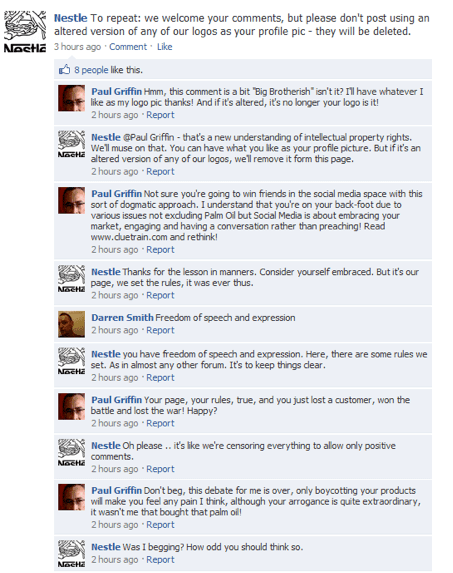 Image courtesy of Natalie Copuroglu (anchorwave.com)
Quick Resolution.
It is important to respond to negative comments as quickly as you can.  This is so you can minimise the amount of people who see it. Usually, negative posts will be shared and become viral more quickly than other posts. However, if you have effective ORM you'll be able to see comments as they are posted, which gives you the opportunity to try to resolve the customer complaint, before it gets shared and goes viral.
JetBlue Airways proved how useful ORM can be in preventing complaints from escalating.  When a passenger tweeted in anger over a delayed flight, the company responded not once, but twice:
Image courtesy of adespresso.com
While these Tweets may not have actually changed anything and the passenger still had to wait, it did diffuse the situation.  It showed the passenger that the company cared and it reassured him, informing him of his new flight time.
Customer Interaction.
Learn about your customers.  Interacting with your customers gives you the chance to get to know them. You can understand their wants and needs and learn about the problems they face. This helps you to tailor your business, to provide the goods or services your customers require. And it also helps you to make dissatisfied customers, happy again.
Tweets between the restaurant Brophy Bros and an unhappy customer, is one of the best examples of ORM I have seen.  The restaurant immediately responded to the customer asking him why he was unhappy and what the restaurant could do to improve.  After learning about what the customer did and didn't like, the restaurant invited him back for another meal.  Following his second visit the customer left a glowing review, calling the meal he had 'fantastic' and remarking how exceptional the restaurants customer service was.
Maximise profitability.
A stronger and more positive online reputation will attract a greater number of people to your website. With more visitors to your site you might see a higher number of site visitors converting into paying customers. With more customers, you should see your profits increase.
To give you an idea as to how much your online reputation can impact on your sales, here are some useful stats from a study completed by Interconnected World:
More than half (61%) of Internet users will research products online before they buy.
Online purchasing is continuing to grow, between 2008 and 2011 it grew by 14%.
71% of internet users will share posts and products on social media.
As you can see, people look to the internet for reviews on a company.  More people are buying products or services online and almost three quarters of the total number of internet users share on social media.  So, if someone researches your business online and/or through social media and they find only positive comments about and from your business, they are more likely to become customers. This is why ORM is so important.
Reputation Management Help
There are lots of tools and websites providing help with reputation management.  They explain what you need to do and how you need to do it.  Some of these websites can even do the work for you.  Alternatively, there are plenty of businesses providing reputation management services.  As your business grows, you need to invest more into protecting its online reputation management, so you might benefit more from a professional service, than a piece of software you found on the net.
Work your way through my website and blogs to find out more about ORM and other digital marketing services.
Digital Marketing Services                                     SEO Content Writing